Namko Ocean View,
State Bank ,Mangalore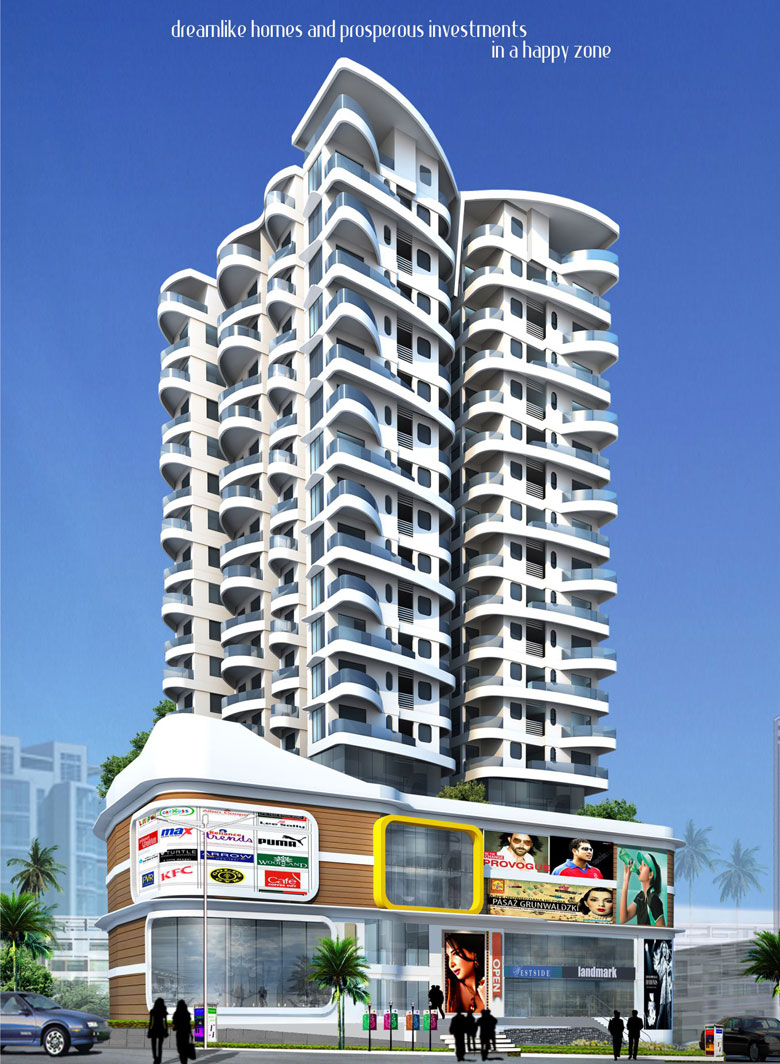 The urge to capture the nature in all its magnificence drives every venture to fine a master Architect who would design a dream apartment! To catch a ocean view is something every person innately desires. Those beautiful waves rolling in sunshine at a distance inspires and invites us to be daring in our lifestyles. Each apartment at ocean view should inspire everyone with its exquisite design, enchanting interior spaces and extraordinary amenities.
OCEAN VIEW is special in its orientation and design. Nellikai Road next to a plethora of Business Addresses captures your imagination to a destination where sun sets in the horizon with all its splendor. Be it Taj Manjuran or Milagres church the silhouettes of Mangalore dramatizes itself in various dimensions into this great pavilion. OCEAN VIEW will dramatically alter the way the fine shopping used to be! With its sprawling high degree of precision oriented and maximum ambience shopping will usher in all the major brands hitherto exclusively held sway in the peripheries of big cities.
Highlights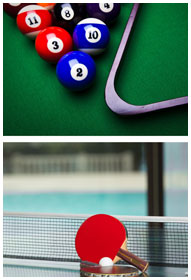 2 Automatic elevator of reputed brand (OTIS / THYSSEN KRUPP).
Generator for common and apartment lighting.
Telephone with centrex facility (intercom) connection.
Cable T.V. provision.
Children's play area with play equipments.
Multipurpose hall in fourth floor.
Attractive visitors lounge.
King size swimming pool with toddler pool at terrace floor.
Club house will have Gym, Snooker, Carrom &Table Tennis.
CCTV in visitors lounge.
Reticulated gas connection.

Amenities
R.C.0 framed earthquake proof structure with laterite wall for exterior and concrete block wall for internal walls.
Superior 24" X 24" Vitrified Floor Tiles For Internal Spaces Of The Apartment.
Designed Glazed Tiles For Toilets And Kitchen (24" Above Platform).
Granite Platform With Bull Nosing And With Granite" / Stainless Steel* Sink for Kitchen.
Jaguar Fittings For Toilets And Kitchen.
Branded Sanitary Ware (Hindware"/ Parryware") In All The Toilets.
External painting of the building with exterior emulsion paints with water proof coating.
Compound wall and Gate.
Colour Coated Aluminium window frames and steel grills.
Electrical fittings for recreation hall. common toilets, car parking and yard.
3KW Power provided for each apartment with single phase meter.
Power Failure Sensing Siren.
Overhead water tank and underground Sump Tank with required pumps.
Automatic water level controller for overhead tank.
Concrete Interlock Paving For Car Parking And Yard.
Granite Flooring For The Common Areas And Staircase.
Amenities
General
Putty Finished Emulsion Painting For Ceiling And Walls.
Modular Electrical Switches (Anchor! Roma! Legrand).
Electrical Wiring Of Reputed Brand.
Superior Designer Locks For All Inside Doors.
Adequate Fire Fighting Systems.
DRAWING /DINING
Italian Marble Flooring.
T.V. Point and Telephone / Intercom Connection.
Wash basin for dining.
Call bell in the dining.
BEDROOMS
AC provision in all Bedrooms.
T.V. Point in Master Bedroom.
Telephone line in all Bedrooms.
Flush Valves / Cocks* for commodes.
Hot and cold mixer unit for all bathrooms.
IWC for common toilet and EWC for attached toilets.
Anti Skid ceramic tiles for bathroom floors.
Provision for geyser & exhaust fan.
KITCHEN AND WORK AREA
Adequate power points.
Provision for fixing and connecting water purifiers near the kitchen sink.
Plumbing and drainage connection with power point for washing machine.
Provision for exhaust fan. • Provision for washing machine.
BATHROOMS
Ceramic glazed tiles dada upto 7ft height
Anti skid tiles flooring in all toilets
Jaguar make C.P. fittings
Pastel coloured sanitary ware (Hindware / Parryware) in all toilets
Pressure checked plumbing and drainage lines to ensure total leak proof toilets.
BATHROOMSDOORS & WINDOWS
Attractive melamine / PU coated decorative main entrance door.
Hardwood door frames with superior quality flush door shutters for inner doors .
RCC frame with fibrotech shutter doors for toilets.
Brass Hardware for main door & brush-steel. tubular locks for all other flush doors.
Location Map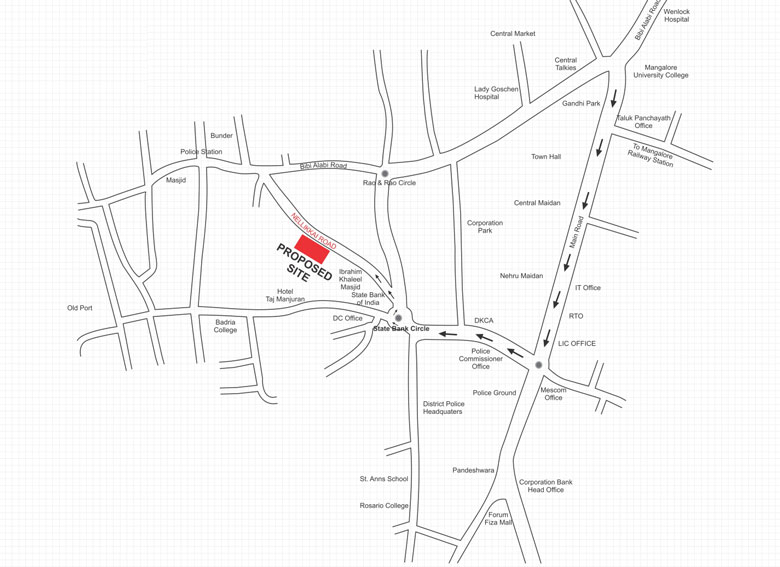 Work Progress
will update here soon...